SEMINAR IN EXPERIMENTAL CRITICAL THEORY (SECT)
SECT VI: "Designing China"
AUGUST 9-22, 2009
SHANGHAI, CHINA
Follow SECT VI on Twitter.
Please click here for Images of SECT VI.
CONVENERS:
Ackbar Abbas, UC Irvine
David Theo Goldberg, UC Humanities Research Institute

Liu Sola, Artist, Composer, Novelist, Beijing
PRESENTERS:
Ah Cheng, SECT-Consultant, Writer, Painter, Beijing
Ai Weiwei, Artist, Beijing
Desiree Andrepont, Milano The New School for Management and Urban Policy, New York
Giuliana Bruno, Visual and Environmental Studies, Harvard University
Yung Ho Chang, Architecture, MIT
Chen Danqing, Artist, Beijing
Hazel Clark, Parsons The New School for Design, New York
Josh Comaroff, Lekker Design, Singapore
Laurent Gutierrez, Design, Hong Kong Polytechnic University
Victoria Hattam, Political Science, The New School for Social Research, New York
Hung Huang, Publisher, Beijing
Hu Ying, East Asian Languages & Literatures, UC Irvine
Michael Keith, Migration and Ethnic Studies, University of Oxford
Leo Lee, Literature, Harvard University
Liao Yimei, Screenwriter, Beijing
Liu Dan, Artist, Beijing
Victoria Marshall, Urban Design, Parsons The New School for Design, New York
Achille Mbembe, WISER, University of Witwatersrand
Brian McGrath, Urban Design, Parsons The New School for Design, New York
Alison Mears, Core Studies, Parsons The New School for Design, New York
Meng Jinghui, Theater Director, Beijing
William Milberg, Economics, The New School for Social Research, New York
Ning Ying, Film Director, Beijing
Sarah Nuttall, WISER, University of Witwatersrand
Jane Pirone, Communication Design, Parsons The New School for Design, New York
Valérie Portefaix, Architecture, University of Hong Kong
Vyjayanthi Rao, Anthropology, The New School for Social Research, New York
William H. Sun, Shanghai Theatre Academy
Tan Ping, School of Graphic Design, Beijing Central Academy of Art
Anne Warr, Architectural Historian, Shanghai
Xu Bing, Artist, New York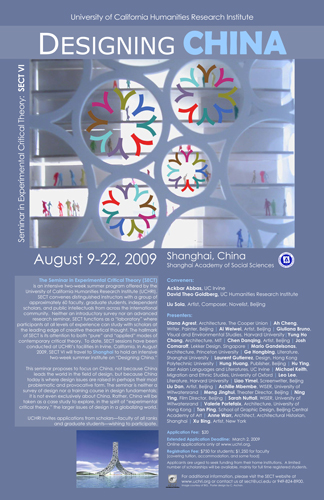 (click to enlarge)
Image courtesy of
BIG
. Graphic Design: Christine A. Aschan
The Seminar in Experimental Critical Theory (SECT) is an intensive two-week summer program offered by the University of California Humanities Research Institute (UCHRI). SECT convenes distinguished instructors with a group of approximately 60 faculty, graduate students, independent scholars, and public intellectuals from across the international community. Neither an introductory survey nor an advanced research seminar, SECT functions as a "laboratory" where participants at all levels of experience can study with scholars at the leading edge of creative theoretical thought. The hallmark of SECT is its attention to both 'pure' and 'applied' modes of contemporary critical theory.
To date, SECT sessions have been conducted at UCHRI's facilities in Irvine, California. In August 2009, SECT VI will travel to Shanghai to hold an intensive two-week summer institute on "Designing China."
Design is more than just a matter of combining aesthetics and functionality. Today, more than ever, the stakes of design are very high, raising at every turn urgent economic, political, social, and philosophical issues. The relation between design and its context is particularly salient in a rapidly transforming space like contemporary China.
Whether we think in terms of the transformation of China's cities and private spaces, or of the transition to an eccentric kind of "market economy" and the production of commodities for local and global consumption that accompanies it, design plays an increasingly important role in the creation of the "new China."
This seminar proposes to focus on China, not because China leads the world in the field of design, but because China today is where design issues are raised in perhaps their most problematic and provocative form. The seminar is neither a survey of design nor a training course in design fundamentals; it is not even exclusively about China. Rather, China will be taken as a case study to explore, in the spirit of "experimental critical theory," the larger issues of design in a globalizing world.
In this seminar, design will be approached in the widest possible sense. Topics presented will include: cultures of commodification and commodification of cultures; the importance of design to capital today; architecture and the design of cities; interior design or the re-emergence of privacy and phantasmagorias of the interior; new media and digital technologies in the shifting terrain between book and web design; fakes, fashion, and global commodities; branding and packaging; cinema as critique of space and affectivity; music and cultural memory; visual arts and visual culture; censorship and other constraints on design.
One thread that runs through these topics is not so much the question "What is good design?" but "What is design culture?" In short, what are the conditions under which design is produced, circulated, and consumed? Why was it that at certain historical junctures, the USA, or Italy, or Scandinavia, or Japan, became innovators in design?
The teaching faculty will consist not only of critics and theorists; artists, designers and cultural practitioners will also be invited to present their work, whose implications for "designing China" and for "thinking our time" will be taken up and teased out by participants. Our location, Shanghai, is a multi-faceted city, one very conscious about design. The seminar will seek to make the city itself an integral part of the seminar. Exploration of the city's divergent social and cultural spaces (with the help of our Shanghai co-sponsors—the School of Journalism at Fudan University and the Shanghai Academy of Social Sciences—as well as local public intellectuals and cultural producers) will proceed in tandem with our inquiry into the possibilities and implications of design.
UCHRI invites applications from scholars—faculty of all ranks and graduate students—wishing to participate.
Application Fee: $20
Registration Fee: $750 for students / $1,250 for faculty
[covering tuition, accommodation, and some food]
Applicants are urged to seek funding from their home institutions. A limited number of scholarships will be available, mainly for full time registered students.
Scholarships are sponsored by Ayesha MacPherson; the Critical Theory Institute, UC Irvine; the Institute for Humanities Research, UC Santa Cruz; the Shanghai Academy of Social Sciences; and UCHRI.
For additional information, please contact us at sect@hri.uci.edu or at 949-824-8900.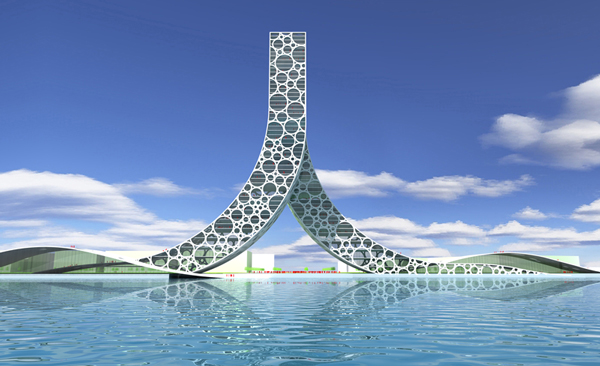 (Image of
People's Building Shanghai-REN
, provided by
BIG
)