SEMINAR IN EXPERIMENTAL CRITICAL THEORY VIII
Living in a Critical Condition: Spaces of Resistance
July 30 - August 8, 2012 | American University of Beirut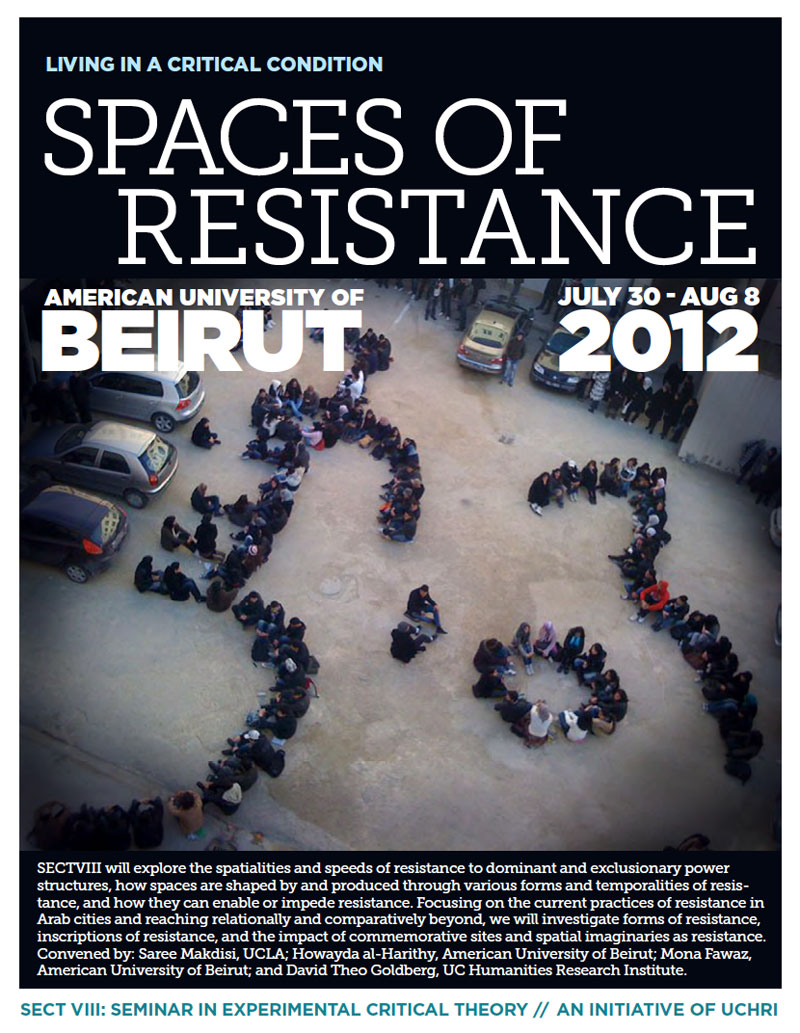 SECTVIII
will explore the spatialities and speeds of resistance to dominant and exclusionary power structures, how spaces are shaped by and produced through various forms and temporalities of resistance, and how they can enable or impede resistance. Focusing on the current practices of resistance in Arab cities and reaching relationally and comparatively beyond, we will investigate forms of resistance, inscriptions of resistance, and the impact of commemorative sites and spatial imaginaries as resistance.
Convened by:
Howayda al-Harithy, American University of Beirut
Mona Fawaz, American University of Beirut
David Theo Goldberg, UC Humanities Research Institute
Saree Makdisi, UCLA
Praise for past seminars:
"I am still astounded by the opportunities SECT opened up to all of us. I had the opportunity to survey the state of the field... and understand how my own work fits into the important innovations happening at the interface and intersection of the humanities and digital development. I had the opportunity to learn from some of the most innovative and well-known thinkers and makers in my field and also to network with them."

"The intensity of thought, the diversity of approaches, and the opportunity to see how leaders in the field talk out their ideas made it a priceless experience. It showed me very clearly the stakes of the field."

"Without a doubt one of the most enriching intellectual experiences of my life. Period."
For additional information, please contact us at sect@hri.uci.edu or 949-824-8900.